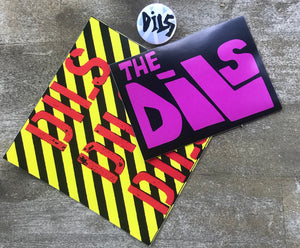 Dils Button and Sticker Bundle
Regular price
$6.00
$0.00
Everybody likes punk rock buttons and stickers!
Get this 1"badge and we throw in the stickers for FREE...What a deal!!
Back Story-Feeling cute after having these made for Punk Rock Bowling, I was speaking with Dils Mr. drummer man who happened to be wearing one. I couldn't figure out how he got one as I hadn't notice the band grabbing any.
Merch Man "Where'd you get that?" 
Drummer Man "it's an original from back in the day that I picked up at Amoeba...."
Merch Man: "Yikes!!! They look exactly the same?!?!?!"
Drummer Man.......¯\_(ツ)_/¯
 FREE US SHIPPING ON SINGLE BUNDLE IS INCLUDED IN PURCHASE PRICE!!! 
---
Share this Product